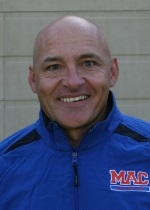 " Ryan Hodgson has developed an approach to delivering coach education that I enthusiastically endorse.
Central to the US Coaches Club model is delivering content in a modular format over an extended period of time. As such coaches have the chance to absorb content, implement it and review it before receiving more information. Where and when a club and coaches to extend the educational window better learning will take place.
United Soccer Coaches is extremely flexible in delivery and so the 4 v 4 – 11 v 11 Diplomas, as delivered through Ryan as an NSCAA staff coach, are well placed as options in US Coaches Club.
The diversity of the soccer community in the US is served well by both prescriptive formal education and flexible, contextual education. US Club Coaches offers important opportunity for coaches seeking to improve their ability and the experience of their players."
Ian Barker
NSCAA Director of Coaching Education

"I have had the pleasure to work with Ryan on several occasions in my role as a NSCAA Senior Academy Staff Coach as well as a former President of the NSCAA. His commitment to the game and coaching education is second to none and it shows in his work on and off the field with his fellow coaches.
His engaging personality and passion for the game is evident whether working one on one with a coach or a group of coaches. His field work is thorough, informative and very clean. You walk away knowing that you just saw all the qualities of a top level coach.
Coaching education is a lifelong process and we owe to the game and our players to never stop learning. Ryan and US Coaches Club offers that in a way that can benefit you as a coach on and off the field."
Paul Payne
NSCAA Past President
Head mens soccer coach – Bloomsburg University

Barry Gorman
NSCAA Past PresidentFormer Head Men's Soccer Coach - Penn State University
Former technical Director at FC Dallas
Current Senior Staff instructor at United Soccer Coaches

"Next Gen Coaches Club have developed an exciting way of approaching coaching education for the majority of organizations and coaches who do not have the resources, either financially or the time to attend other options.<br< With the approach US Coaches Club takes in educating coaches in a specific modular format allows coaches to retain and better understand the information, rather than the traditional "condensed" format.
Coaches can attend "individual modules" and learn the game over an extended period of time. US Coaches Club offers what I call a "true continuing education" approach where they can work with organizations of all sizes in maintaining the professional development of their coaching staff.
I have worked on many national coaching schools with US Coaches Club's Director of Coaching Education Ryan Hodgson, and his ability to teach the game is as good as I have seen. His creativity, attention to detail and the way he interacts in educating coaches of all levels is world class. I highly endorse US Coaches Club's unique and proven way of educating coaches on a modular-based approach to any soccer organization throughout the United States.
Tony Waiters
Former Canadian National team manager – Mexcio '86'
World of Soccer President/Owner/Founder
NASL Championship winning manager